Flyi
| | |
| --- | --- |
| follow me on | |
| twitter / Instagram | |
| my photos on | |
| my videos on | |










London Stansted Airport
This page is designed to give a quick guide on some of the locations for photographing aircraft at different airports in Europe.
As many aviation enthusiasts know, since the terrorist attacks in the USA in 2001, very many official viewing locations were closed down and some people look upon aircraft enthusiasts with suspicion. Photographing aircraft is not illegal, but there are places where it is allowed and those where it is forbidden, for example, many airports do not allow photography inside the airport. Always observe signs and notices, I recommend carrying some form of ID. Some airport police forces now engage with local spotters for example, Stansted Airport Planewatch
Note that in large part, the locations listed are not official viewing areas and you are reminded to abide by all laws and common sense when it comes to visiting these places. I would always suggest keeping well back from fences, do not trespass on private land, and politely follow any requests or demands by those in authority.
These pages are provided as guidance only and cannot be used as for anything more than general information purposes. You are fully responsible for your own actions and for abiding by any instructions given by any airport official. No part of the "tips and locations" section is approved or endorsed by any airport or authority
London's third largest airport is Stansted. There is currently no official viewing area, although the preferred location for viewing is along Belmer Road. Due to high perimeter fences and few raised areas, video and photography are a challenge. Stansted does have a dedicated education centre called Aerozone, however this is not accessible to the public.
Stansted has one runway, north facing 04 and south facing 22. (Oct 09 these were changed from 05/23 due to change in Earth's magnetic poles) Aircraft usually takeoff and land on runway 22 as the approach is over fields.
Stansted is home to Ryanair and Jet2 have had an ever growing presence since 2019 and have become the airport's second largest operator, overtaking easyJet which closed it's base at Stansted in 2020.
Stansted Airport Plane Watch Scheme
is operated by Essex Police details of how to apply can be found at
stanstedplanewatch@essex.pnn.police.uk
https://www.essex.police.uk/advice/essex-watch/plane-watch/


or by writing to
Airport Plane Watch Scheme
Enterprise House
Bassingborn Road
Stansted Airport Essex Police
CM24 1PS
Currently Operating (Guide only and subect to frequent change)
Stopped operating

Ryanair
Jet2
Jet2 Holidays
Emirates (Daily 777)
Air India (Boeing 787)
EasyJet (no based aircraft)
Aurigny
Air Moldova
Atlas Global
British Airways Cityflyer (weekends)
SAS Scandinavian Airlines
AnadoluJet (Turkish)
Loganair
Pegasus Airlines
Thomas Cook
TUI
Titan Airways
Ural Airlines (Russia)
FlyPOP (India proposed startup)
JetBlue (expected 2021)

Cargo

Atlas Air
China Southern
FedEX
Panalpina
Qatar Cargo
Martinair Cargo/KLM
Swiftair
UPS
West Atlantic

Aegean (xfer LHR)
American (May 08 xfer to LHR)
Air Malta (xfer LGW)
Air Italy (route closed)
Blue1 (xfer LHR)
Blue Air (xfer LTN)
CSA (route closed all UK routes since curtailed)
Centralwings (ceased trading)
EL-AL (Xfer LTN)
EOS (Apr 08 Airline failed)
FlyGlobeSpan (Network retrenched to Scotland ceased ops Dec 09)
MaxJet (Dec 07 Airline failed)
Norwegian (xfer LGW)
Eastern Airways (route closed)
Star1 (ceased ops)
Sky Europe (xfer LTN ceased ops)
Wizz Air (xfer LTN)
Transavia (xfer LTN)
Air Berlin
Air Berlin
Iceland Expres
Turkish
Global Supply
Cobalt Air (ceased ops)
Primera (ceased ops)
Eurowings (xfer LHR)
Germanwings (merged to Eurowings)
Flybe (ceased ops)
Atlas Global (Turkey) Ceased ops
Wideroe (xfer to SEN)
Western Global (MD-11 Cargo operator)
TNT
Terminal Building

The first thing to note is that there is nowhere from within the terminal building to view aircraft unless you are airside. There used to be an OK area adjacent to the terminal building but I would not recommend now, as so many new security features are in place.

Belmer Road

To get to the main viewing areas you will need a car, or be willing to walk a fair distance. Stansted Airport is surrounded by public footpaths and rights of way, however aside from a few places, parking isn't particularly easy.

The main viewing are is the road past the village of BURTON END, which provides views alongside the runway.

Runway End

Alternatively at the end of Runway 22, known as the "Jam Factory" which gives views of aircraft directly overhead. Viewing at the end of Runway 04 is less easy as there is nowhere to park. Parking anywhere causing an obstruction will result in police/security moving you on.


Hotels

Stansted has an array of nearby hotels including Holiday Inn Express, Premier Inn located near Mid-stay parking. Neither of these would offer views of the airport or runways.

The best viewing locations are to be had at the Hampton by Hilton and Radisson Blu, both located within walking distance of the terminal. Airport facing views in both hotels overlook the apron. Radisson blu offers views of the Ryanair stands, whilst Hampton provides views across the piers used by many other operators. Both have large windows and are 4* facilities.

The Novotel at Stansted (previously Hilton) is located by the Long Stay car park. It does not offer views of the airport although some views may be had of aircraft landing on Runway 04. Many other smaller B&B's and other hotels such as Days Inn are nearby but the viewing opportunities would be very limited.

Refreshments and Facilities
There are no refreshments or toilet facilities at any of the locations. Also because the locations are fairly windy, I suggest taking suncream even in lowish temperatures to avoid burning. There is a McDonalds and drive thru Starbucks located near the Medium Stay car park, however you would need a car to get to these.

A VIEW ALONG THE RUNWAY LOOKING
TOWARD APPROACH AT RUNWAY 22


A SNOWY VIEW OF THE OLD CONTROL
TOWER THIS VIEW LOOKS TOWARD
RUNWAY 04


The easiest way is to use the M11 motorway, either from the North from Cambridge or from London to the south. Using the main slip road follow the signs to the airport, once off the motorway head in the direction of the Long Term Parking (This is very close to the airport Hilton Hotel).

At the mini roundabout adjacent to the long term car park carry straight on you will be travelling on the Round Coppice Road. This is a long winding road that takes you around the perimeter of the airport as you go around a relatively sharp bend you will see an entrance on your left hand side, this is the airport's business aviation area. Carrying on the main road the name changes to Bury Lodge Lane simply follow this lane all the way round until you reach Burton End village. Please slow down through the village! Carry on past The Ash Pub, and you will reach a VERY VERY sharp bend, please do take care here. Continue a little further until you reach a straight road called Belmer Road. You will see cars parked along the road, this area is a nature reserve and public right of way.

Park up along the road and there are a number of small cut ins through the small wooded areas and you will be at the side of the runway. Police and security frequently drive past these areas and therefore do not be surprised if you are asked your intentions, on occasion they may do a vehicle/name check just to make sure you are who you say you are. Police here are very tolerant and know that genuine enthusiasts are extra eyes and ears.

For maps and additional information I would suggest this excellent resource Plane-Mad.com

You will need a ladder to be high enough to see over the fence. You must stay well back from the fences. Alternatively you can walk along the length of the runway and may find suitable vantage points.
Variety at London Stansted Video 4K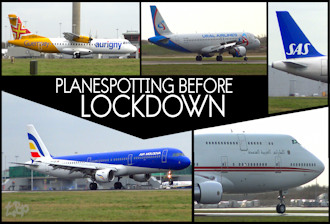 Example Videos from London Stansted
| | | |
| --- | --- | --- |
| | | |
| VIP arrivals at London Stansted Airport for the NATO 70 conference, features Turkish Government A330 & 747-8, Gov't of Netherlands 737BBJ, Gov't of Bulgaria Airbus and more!! | It's been a stormy start to 2016 with no less than 3 big storm events filmed. Storm Katie brought the strongest winds gusting up to 50kts. This video captures a VERY HARD touchdown of an unusual visitor of Emirates Boeing 777 plus 2 go-arounds and turbulent approaches. | Rare sights and sounds galore in this video from Stansted. With a NEOS Boeing 787-9, a Danish Air Transport very rare McDonnell Dougals MD83 and Emirates B777 in the Expo livery just a few of the aircraft featured. |
| | | |
| | | |
| | | |
PRIVACY & COOKIES / PERSONAL WEBSITE HOSTED BY FORCE9 INTERNET. homepages.force9.net
Airline and Aviation Videos and DVD's filmed in High Definition, Top Banana Productions www.aviationvideos.co.uk www.dancingmonkey.co.uk Formerly producing not for profit television for RedTV;
Website Design & Animations (c) DTHYNES 2004 - 2021 Top Banana Productions (TBP) Site Designed for 1024 x 768 resolution.
Aviation Videos Aviationvideos.co.uk Planes Flying Into History, DVD Video, Flying In Ireland, "flying in ireland" ,"flying into history" aviationvideos,co.uk, Stanstead, Stansted, Airport, Dublin, Arann, Aer, TWA, Trans World Airlines, TWA Airlines DVD, Max, MAXJET, MAXjet, Max Jet, MaxJet Airways, Aviation videos, Aviation, Airliner Videos, Airlines, DVD, Airline DVD, Aircraft DVD, Aircraft Video, Civil Aviation Air, Airforce 1, Air Force One, SkyEurope, Wizz, Globespan, Edinburgh, Glasgow, Spotter, Takeoff Video, Landing Video, Airplane, Flying Into Ireland, Flying Into Manchester, flybe, Videos of Airliners, plane videos, dancingmonkey videos, bananaman videos, Hymar, Harlow Videos, BMI, BMI baby videos, Air Asia X Landing, A340 Stansted, 777 747, 767 widebody plane videos plane DVDs plane videos buy aircraft videos Sony HDR FX7 High Definition Videos, UK Airline videos, Planes in HD, HD Videos 4K Aviation Videos 4K Ultra HD, Tupolev, Antonov, ATR, Air Force One "Air Force One" Boeing VC-25 POTUS FLOTUS Panasonic HX1000E Sony HC3 727 Stansted Airport Iron Maiden Ed Force One, Crosswinds, Storms, Flying, Avgeek, Aviation, Flyers, Pilots, Crew, AviationVideos, Boeing747, "Boeing 747 Video", Boeing 757, Boeing 787, Crosswind landings videos, No Airplane Crash Videos, PIA709, Pakistan Boeing 777 Emergency Landing, Storm Force, Storm Brian, Storm Imogen, Storm Jake, 4K Aviation Videos, Painted Planes, #Avgeek #Aviation #AviationVideos #Crosswind #Flying #Youtube #Videos
ng Into History, DVD Video, Flying In Ireland, "flying in ireland" ,"flying into history" aviationvideos,co.uk, Stanstead, Stansted, Airport, Dublin, Arann, Aer, TWA, Trans World Airlines, TWA Airlines DVD, Max, MAXJET, MAXjet, Max Jet, MaxJet Airways, Aviation videos, Aviation, Airliner Videos, Airlines, DVD, Airline DVD, Aircraft DVD, Aircraft Video, Civil Aviation Air, Airforce 1, Air Force One, SkyEurope, Wizz, Globespan, Edinburgh, Glasgow, Spotter,